Welcome
Welcome to A Chic with Stix! A Chic with Stix, LLC is a field hockey and lacrosse equipment store located in Central New Jersey, serving all areas of New Jersey. We pride ourselves in selling serious gear for serious female athletes – Seriously!
Pink Haven – Paint the Town Pink
Please join us in the fight against Breast Cancer! Fair Haven is participating in Pink Haven, Paint the Town Pink for the entire month of May. Local businesses and residents will be showing their Pink Pride to raise awareness for Breast Cancer. A Chic with Stix is one of the many participants in Pink Haven. To help fight against Breast Cancer we will be fundraising for the Pink Fund. The Pink Fund was set up by Meridian Health to provide FREE mammograms for women and men who can not afford it. All of the funds we raise will go to the Pink Fund, which will provide the FREE mammograms. For more information on how we are fundraising, please check out the event below. Thank you for your support and participation!
 Pink Haven @ A Chic with Stix
A Chic with Stix will be accepting $5.00 donations for a chance to win PINK Field Hockey/Lacrosse equipment and apparel. If you are not interested in the raffle, we accept any donation, which will be tallied together in our pink piggy bank. Every little bit counts!
"Lets Fight Breast Cancer Together!"
 Event Info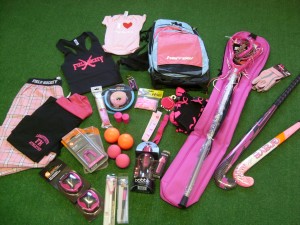 When: May
Time: During normal business hours
Address: 807 River Road-2nd Floor, Fair Haven, NJ 07704
We hope to see you during the month of May!
Field Hockey and Lacrosse Sticks in New Jersey
Our equipment inventory is composed of technically advanced field hockey brands, including Dita, Grays, Gryphon, STX, and TK, and lacrosse brands, including deBeer, Harrow, and STX.
If you are looking to purchase field hockey sticks or lacrosse sticks in New Jersey, we have the perfect selection and variety to suit your needs.
And, if we don't have what you are looking for we can order it for you!
We look forward to hearing from you: (732) 403-0285