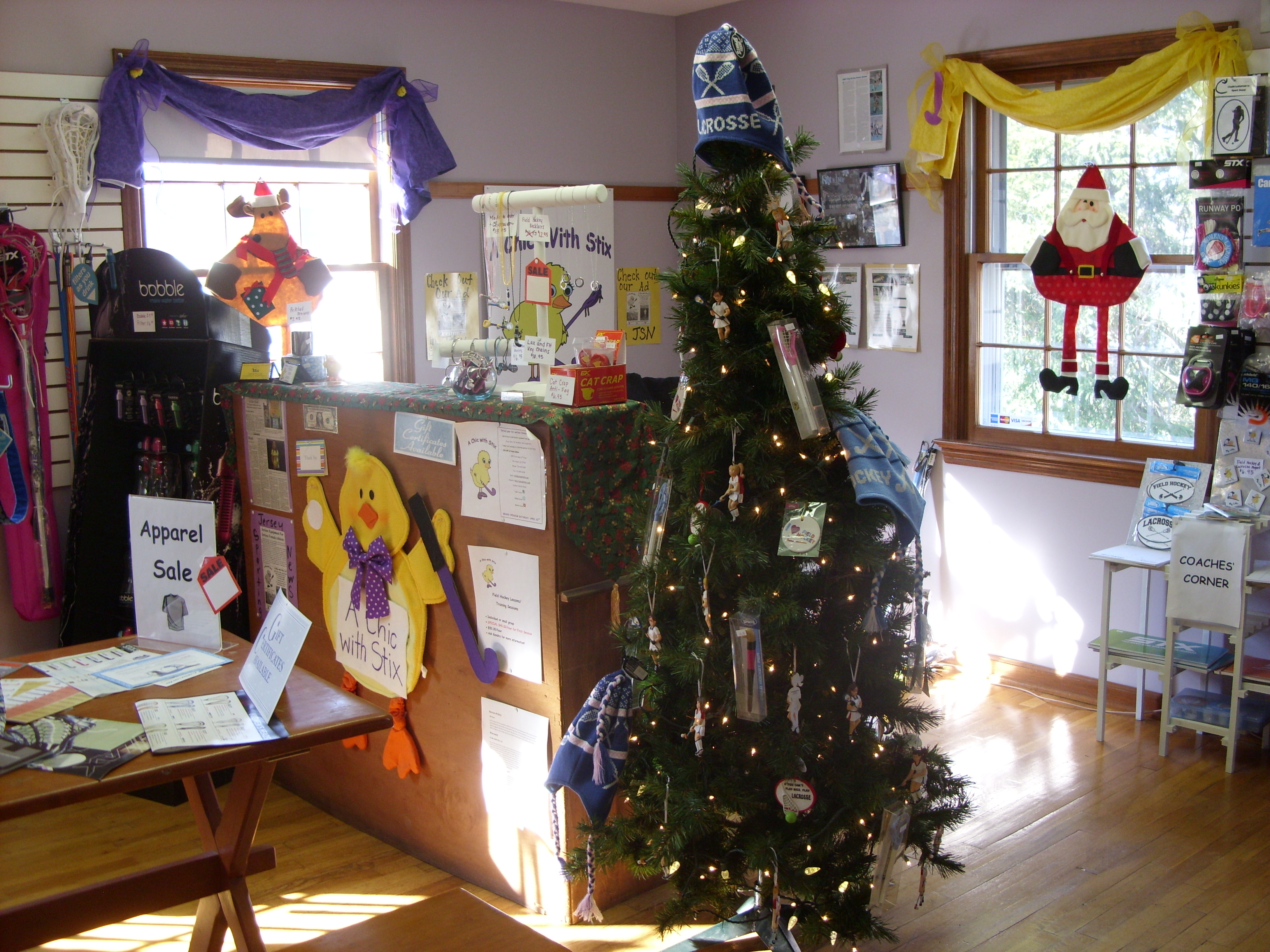 To help make your holiday shopping easier, A Chic with Stix has developed the first annual Field Hockey Holiday Gift Guide. The Holiday Gift Guide will give you great gift ideas for your field hockey player this holiday season. It includes all of our most popular items from this season including outdoor sticks, indoor sticks, equipment, even stocking stuffers!
It's the one stop shop! We have all of the necessary equipment to make your field hockey player happy this holiday season. Check out the list below….
Outdoor Sticks
TK Platinum 1: The Platinum 1 is the most elite level TK stick for your elite level field hockey player! It offers premium power with shock absorption technology. For those athletes looking for a slightly heavier stick with a bit more feel.
TK Synergy S4: This stick is still a huge hit this season and we have plenty in stock! It features the Nano Technology and is well balanced with amplified power including supreme feel.
TK Vintage V3: The V3 has Advanced Matrix Construction with added fiberglass that translates into superb feel while the increased carbon adds power to this great all around stick.
Gryphon Taboo Classic Curve: This stick is the perfect match of dynamic feel and stimulating power. The extended toe allows for backhanded shots and elite level skills for your top field hockey player!
Dita Exa 200: The Exa 200 features both power and forgiveness all in one stick. Designed for elite level player and a great gift this holiday season!
Dita Terra V20: The Dita Terra V20 has been quite the hot commodity this season and there are still some left to give as a gift for any holiday occasion. It is a very powerful stick designed for any advanced field hockey player.
Grays GX 2500: This stick was designed for your advanced beginner player, if that makes any sense! It offers excellent first touch and feel, great power, and with high fiberglass content it allows for more power and durability.
Goalie
Grays GX 4000 Goalie Composite: Specifically curved blade gives extra stopping area for saves and at an affordable price!
Indoor Sticks
Gryphon Elan Indoor Composite: The Gryphon Elan Indoor is going to fly off the shelves this indoor season because it suits advanced level players who like more powerful sticks. And it's YELLOW!
TK Vintage 2 Late Bow Scoop Indoor Composite: The Vintage 2 Indoor stick has the same attributes as the TK Vintage 2 Late Bow Scoop outdoor stick! The late bow with the scoop enhances balance of power and feel of the stick.
Equipment
STX 2 See Pro TI Goggle: The lightest goggle in the game! The Titanium wires make it lighter, thinner, and stronger than steel! It delivers better visibility without sacrificing protection to keep every field hockey player safe.
Bangerz HS-3000 Goggle: Shock absorbent eyeguard for ultimate protection. Curved shield design for maximum peripheral and excellent down vision. This particular goggle is also available in various colored lenses to allow for optimum vision in all lighting conditions.
*Worried about fogging? We also have Cat Crap in stock to help prevent any fogging from occurring. It cleans polishes glass and plastic, repels lint and dust, and most importantly prevents fogging of lenses!
TK 1 Glove: This glove provides full-hand protection and is multi-sectioned made from deep soft foam. The TK 1 Glove is extremely light and flexible too!
STX Valor Shinguards: The Valor Shinguards contain High Def Polymer multi-surface backing for ultra-light weight, low-profile protection that won't absorb sweat or moisture. The flexible rib design allows for air flow and a great fit.
Gryphon Little Mo Backpack: Gryphon's top selling stick backpack. It includes one main gear compartment and multiple stash pockets. The stick sleeve goes diagonally down the back to even out the weight. Ipod holder and headphone outlet are also great features.
Stocking Stuffers
Field Hockey Glitter Ball: Great for practicing your field hockey skills while showing off your feminine side.
Sweaty Bands: Sweaty bands are great for any athlete. They look stylish, don't slip, absorb sweat and help keep your hair back. We swear by it!
Field Hockey Jewelry: A Chic with Stix has great stocking stuffers this year, including jewelry. We have one of a kind field hockey bracelets and necklaces available that any field hockey player will adore!
Field Hockey Pen: For excellent penmanship and it's fun to play too!
Field Hockey Key Chain: The silver key ring allows for you to keep track of all of your keys and shows your love for the game of field hockey with the silver heart pendant which is attached to the key ring.
Metallic Field Hockey Field Player Car Magnets and Field Hockey Goalie Car Magnets: This gift is a great way to show your field hockey pride on your car!
Skunkies: Get the stink out. Eliminates odor and absorbs moisture. For best results put your Skunkie into your stinky stuff!
Colored Pre-Wrap and/or Printed Pre-Wrap: Pre-wrap is always a great gift because it comes in so many different colors and patterns! You can please any field hockey player with pre-wrap.
To place your holiday order, please contact us by calling 732-403-0285, filling out our contact form or e-mailing us at info@achicwithstix.com.
We hope to hear from you soon! Happy shopping and Happy Holidays!
-Kendra