Join us for the A Chic with Stix Grand Opening on Saturday, April 30, 2011!
Keep reading to see what we have planned for the event: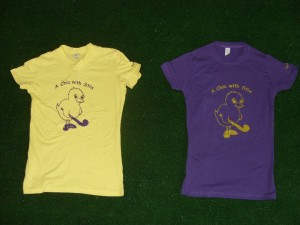 1) Free A Chic with Stix T-Shirt
When you make a purchase on Grand Opening day, you will receive a free T-Shirt! Who doesn't love a free T-Shirt, right? View the image to the right; get excited!
2) A Chic with Stix Frequent Buyer Cards
During our Grand Opening, we will also be handing out Frequent Buyer Cards with every purchase. Don't miss your chance to get one!
3) Target Practice Savings on the Turf
You will be allowed to take 2 shots at targets mounted on the wall mats over the turf and if you hit the bulls-eye you will get a coupon for $5.00 OFF of your next purchase.
4) Discount on Team Orders

If you are a part a field hockey team, we have great news! Get 10% OFF when you place a Team Order. Interested? Please do not hesitate to contact us for more details prior to our Grand Opening event.
5) Youth Packages Available
We are also pleased to announce that we have two Youth Packages available for purchase. Each package includes a field hockey stick, shin guards, mouth guard and ball, which is perfect to get any field hockey beginner started.
A Chic with Stix NJ Grand Opening
We truly hope to see you at the Grand Opening event! Please consider leaving a comment here, to let us know if you will be attending!